Thursday night I put on my old favorite black work dress, the kind we all have and keep for years because it's somehow eternally flattering, and threw on a suit jacket and a pair of heels for the first time since I've moved to Los Angeles.
Two years ago.
When I say I spend the majority of my time in "athleisure" clothing (my eyes are currently rolling) I am not exaggerating. I started working for a yoga studio when I moved here and immediately donated my 7 pairs of the exact same Express "Editor" pants, colors ranging from black to gray (and one brown pair I bought because I thought I should "branch out" but hated and never wore) that I used to wear on a weekly rotation.
Yes, it's a dream come true. Because why would I put on regular person clothes? Silly, I know. But for the past few months I've been volunteering on the Women in Sports and Events (WISE) communications committee. I've been missing my sports life and wanted to get that feeling of purpose and challenge again. I hate to admit but, but even though I love my yoga pants, getting dressed up is an instant confidence booster. It changes my mental outlook and I feel like the best version of myself.
Strangely enough, this post ISN'T about clothes. Moving on.
On this particular night WISE LA was hosting the Women of Inspiration Awards Dinner to celebrate the career success of women in sports.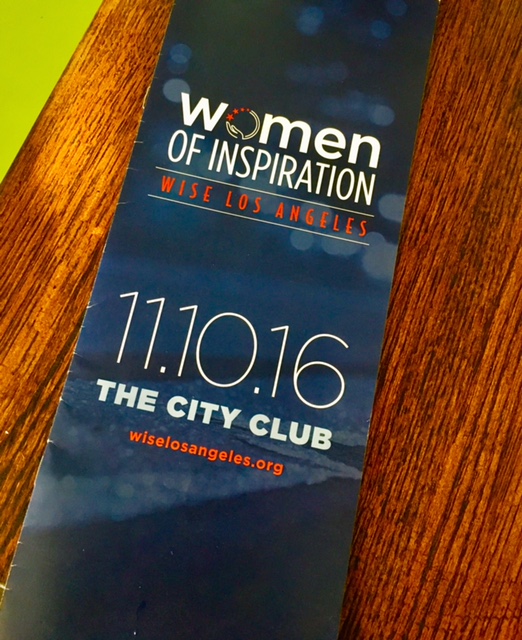 After an emotional election that made it feel like everything around me was swirling and everyone around me panic-stricken, I woke up earlier that morning and vowed to have a better attitude because that's what I can control. I realized the dinner that night would be the best place I could be, the place I felt I needed to be, and driving there (with the aid of my favorite upbeat playlist) I felt a sense of relief.
After driving 12 miles in two hours (literally) and wasting 25 minutes looking for free parking (no, I didn't find any) I walked into a room of 300 people, knowing exactly one. Who I couldn't find.
You'd think this type of situation would make me nervous. Me who's terrified of doctor's appointments and interviews and phone calls from numbers I don't know, but for whatever reason, I weirdly have zero nerves when walking into a room filled with hundreds of strangers.
The strangers who surrounded me on this particular day were smart and important women (and also NFL Receiver and former Jet Keyshawn Johnson who I regret not getting a picture with). Women I can learn a lot from, women who challenge themselves and inspire those around them to step up and become a better version of themselves.
The keynote speaker was psychologist Rachana Bhide and in her very relevant speech, she talked about her research on diversity and engaging men to support women in the workplace and be advocates for change (<—findings from her study – worth a read). My takeaways:
Behavior is a function of both person and environment. People behave differently in different situations.
Storytelling helps with understanding – when we share our stories, we further the conversation and become better connected and more helpful advocates for each other.
11 of 12 men identified an "a-ha" moment or story that helped them "commit" to supporting a diverse workplace.
If there's a man in your life who's your "champion", tell him when and how he's helped so he can continue to do that for others.
My determined mindfulness coupled with Rachana's speech combined to give me a moment of clarity.
Over the next few days, I noticed the panic subsided. I stopped getting the urge to tweet my feelings to the world.
(I know I'm totally going off topic, but I basically cry from laughter every time I watch these videos. I had to share.)
I had conversations I wouldn't normally have. I noticed my friends finding their voices and we began to have conversations we've never had before. Diversity and women's rights have become a conversation topic not only within my circles but outside them, in public, on social media, everywhere I go. Productive, enlightening conversations that teach me a lot. It reminds me that there's a passion inside me that I don't normally share…but why don't I?
This election has brought a lot of suppressed emotions into the limelight and has made it hard to brush the related feelings aside. In my eyes, they've become so big we're more compelled to share our stories. As women, a lot of of us seem to have reached a point where we feel we can't not share, and sharing has helped make use of our experiences.
Even though at times it feels like we're stuck in a corner, our fangs coming out because we don't think we have a choice, I've been learning that we don't have to fight our way out angrily. There's a lot of value in building better relationships and sharing our experiences, both sides meeting with understanding and compassion even if they disagree with each other. We can talk about topics we used to hide from. We can be strong and stern but more mindful about how comments we make can be perceived.
It seems impossible until it isn't.
On that note…what do you do when you feel like it's impossible to reason with someone? Have you become more mindful and reflective over the past week, too?