Meet Cecilia!
Sitting here playing our wedding song for our daughter as we roll around doing "tummy time", sensing everything important in my life coming full circle, I still don't believe she's here. I believe I'm in a dream and I'll wake up, pregnant and again feeling stuck in the seemingly endless nine months. It was incredibly hard to fathom that our baby girl would actually be in my arms one day, and now she is and it's surreal. It's a new, fulfilling kind of dream that I'm thrilled to experience each day, challenges and all.
If you're into birth stories, here's ours.
---
At 39 weeks on the dot, I started feeling contractions. They were instantly about 5 minutes or less apart and consistent. I wasn't quite sure if they were "real", all I knew is they HURT. After waiting a few hours I finally called my doctor and she told me to go to the hospital and they'd check me out. I was certain they'd send me home because A) I felt absolutely nothing out of the ordinary (key phrase here – I mean, it's not like I was feeling GREAT, but nothing seemed weird) until this day – I was at work the day before telling people I thought this baby would be a 42-weeker and B) what the hell do I know about labor pains?
It just couldn't be time yet. 
Brendan drove me to the hospital, very calmly and very unlike how we imagined it to be. No red lights were run and we didn't get pulled over and have to explain to the cop through painful breaths that I'M IN LABOR and then get a police escort.
Movies, girl. They really make life seem so much more dramatic.
We arrived and I refused to let Brendan drop me off at the main entrance, not because I was trying to be tough but because I didn't want him to leave my side. I waddled my way in through a contraction, staring down everyone in our path in hopes my eyes said "I'm in labor, get the hell out of my way and don't get on this elevator with us".
After being monitored in triage for a bit, they admitted me. Thank the lord, I couldn't imagine having to go home and wait.
At this point, my worries increased. IT WAS HAPPENING. I was so nervous about the epidural. Almost enough to not get one at all. All people tell you is that the needle is huge and really hurts. I, however, wagered that pushing a human through a small space would be a tiny bit more painful and decided I'd take the risk with the needle.
I was so nervous I was shaking.
PSA: If you're as terrified about it as I was, I am here to tell you I felt basically nothing.
For me, all I felt was a quick pinch/burning sensation. That was it. And let me tell you, the relief from the pain was GLORIOUS. I felt no pain from then on, not even while pushing. Because of that, the whole experience so much more enjoyable, less scary, and happier. Brendan and I had some quiet time together, listening to music and talking and relaxing as much as possible. He played this song for me and I cried my eyes out. (Listen to the words. Ugh. So many emotions. Crying again.)
Much to my surprise, I can honestly say I enjoyed labor. (More on this in my next post – I have so much to say because I had such a debilitating fear of child birth.) There were a few minor "complications" but the medical staff knew exactly what to do and everything worked out in our favor. I am so grateful; I know how lucky we are.
(Nurses and doctors at Morristown Hospital = absolutely incredible. I actually want to be best friends with them. I didn't want to leave; they took such good care of us.)
At around 8PM, after about an hour of pushing, the doctor plopped our baby girl on my chest and I started crying the happiest tears. I wasn't expecting her to come out on that push; I was completely surprised. The moment that consumed what felt like every waking moment for the past nine months had arrived. Brendan was next to me, our daughter was here, and I was in disbelief.
Our strong 5 pound, 7 ounce baby girl. (For whom I brought both a newborn and a 3-month outfit to the hospital because I thought she might be huge. My mouth dropped when I heard how tiny she was!)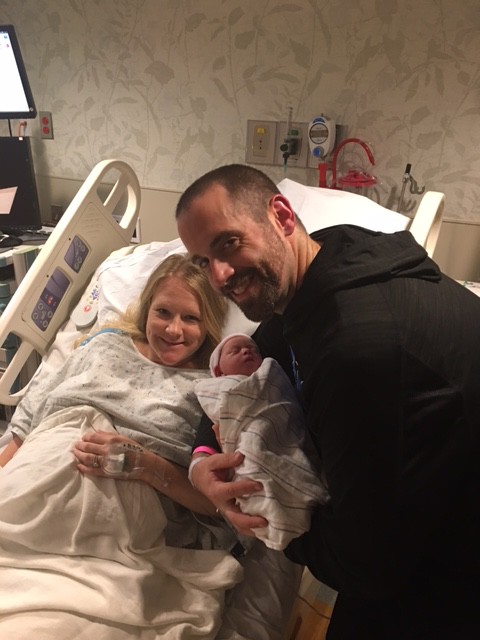 In that moment I instantly felt that rush of love that everyone talks about but I wasn't totally sure I'd feel. When I imagined that moment, I worried I might be too exhausted, too scared, too overwhelmed with everything I had experienced. The "overwhelming love" everyone talked about almost seemed "cliche". Would I really feel that?
But oh, how my heart exploded as our family officially became family of three, all of us together in that room, in that perfect moment.
It was one of the best days of my life.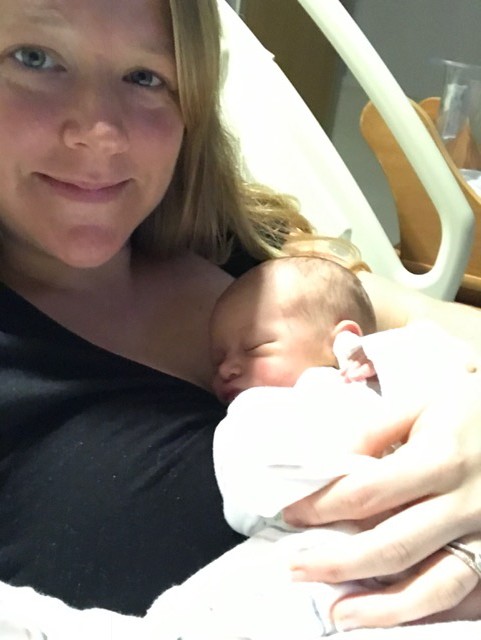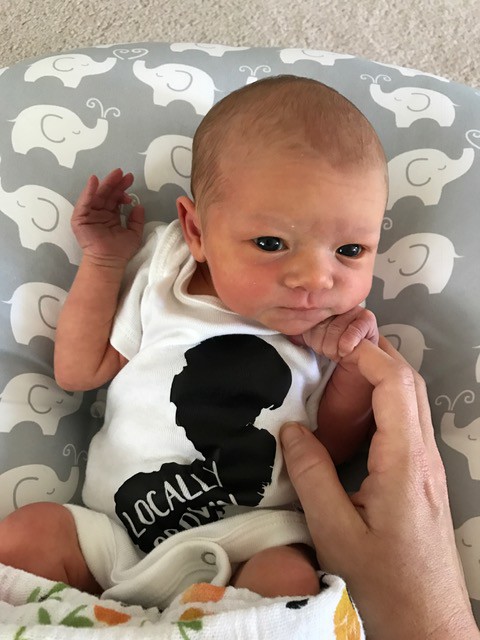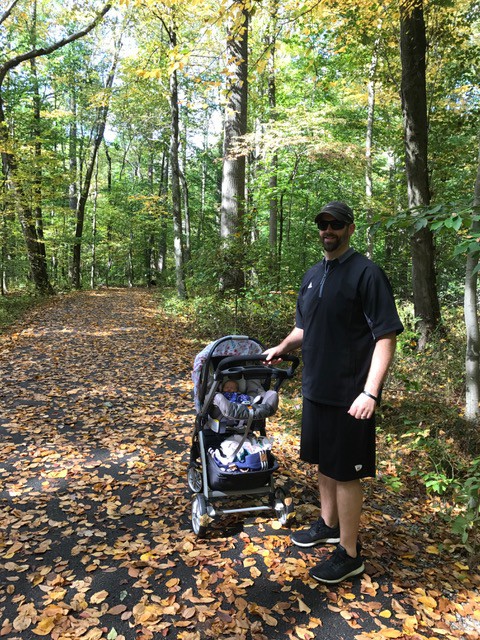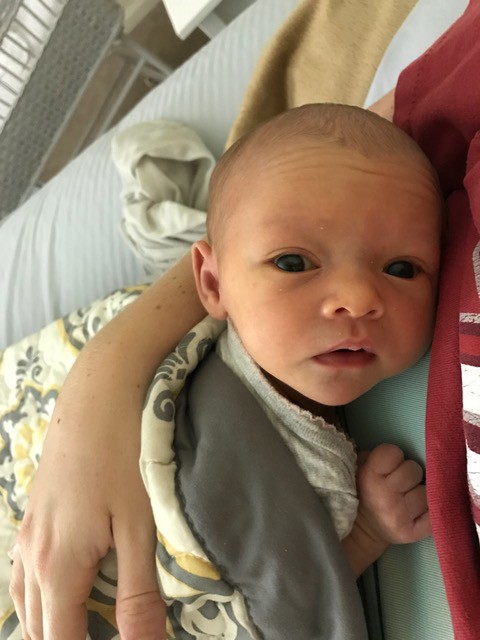 ---
If you're keeping track of my hyperemesis…the second the placenta came out, I felt like myself again. I noticed a shift in my mood immediately. I no longer need medicine to keep myself from vomiting. I can drink water whenever I want. I no longer have an intense fear of my stomach getting empty (besides knowing how hangry I get). NO MORE NAUSEA. Also, if you're wondering, I didn't become "addicted" to my medication. YES, I was nervous about this even though numerous doctors told me it wasn't possible – I literally Googled rehab facilities and if they treat paranoid pregnant women with nausea medication addictions JUST IN CASE.
Lastly, I was not a pleasant pregnant person and to anyone I offended or was rude to PLEASE FORGIVE ME!
So, to recap. Cecilia is here! Cici/Cece/Ceci is her nickname, still don't know how we want to spell it, please vote! Childbirth was so not as scary or painful as I thought it would be. I love motherhood. I'm three weeks in and so far I've had one panicked trip to the pediatrician. (Andddd absolutely nothing was wrong. Whoops.) So far I'm managing the lack of sleep much better than I thought I would, but please check back in a few weeks. Instacart is saving our life. (<—Shamelessly sharing that referral link; use it and we'll both get $10 off!)
The end!
If you're a new mom and looking for postpartum fitness tips, clickity-click here!