Because I'm traveling, my good friend Lora is here to share some valuable running advice. (You might remember her from our Ragnar Relay a few years ago!) Her running resume is very impressive and her dedication to running is endlessly inspiring. I hope you enjoy reading this as much as I did! 
Hey guys! It's Lora here from Crazy Running Girl! I'm so honored that Kara invited me to be a guest poster on her blog over the holidays while she's traveling to see her family and friends.
The new year is just around the corner and you know what goes with that…New Year's resolutions. I am not against New Year's resolutions in any way – after all, I make them every year on my own, too! I know a lot of people will swear to themselves that this is the year, I'm going to start running! And my reaction? Yay, welcome to the running community!
Making a drastic change like that can be tough…really tough! I've witnessed family, friends and even those I've coached start strong and then slowly fall off and suddenly by March, that dream to be a runner has been all but erased from their memory.
So with that in mind, I'm sharing my top 7 mistakes to avoid when starting to run in 2017.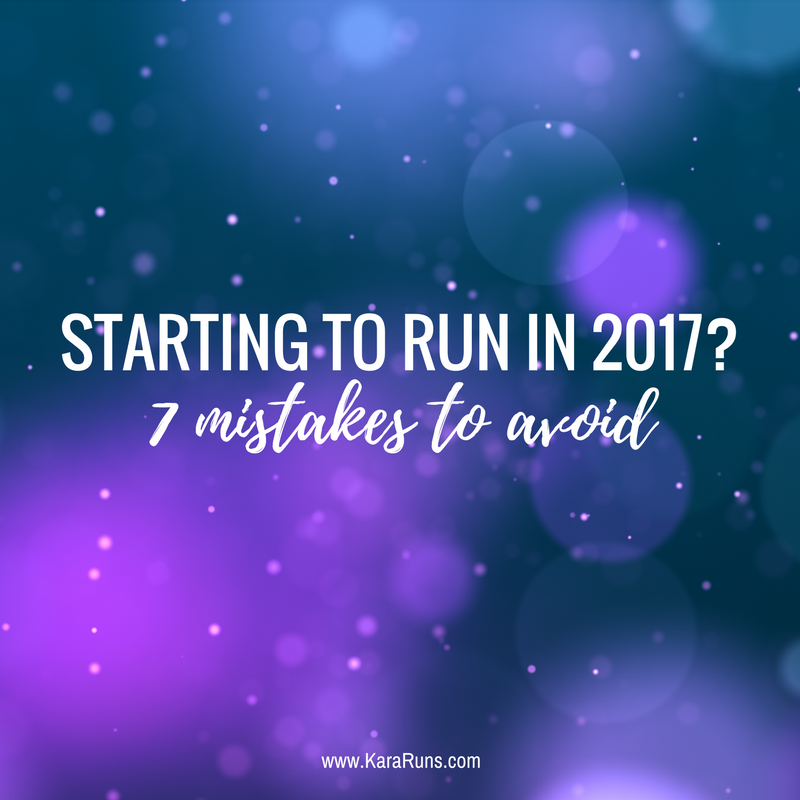 1. Not setting any goals
This one is huge! You've made the decision to start running. What is your why? Knowing your why will help you be so much more successful. Do you want to be able to run a race? Do you want to lose weight and have fun? Whatever the reason, make sure you know what it is so you can work toward it as you start running.
2. Running every single day
There are few people in this world that actually streak (aka run every single day). The elites don't even do it! If you're just starting out, running every single day can result in a quick burn out. I recommend you start slow – maybe 2-3 days a week and slowly build up to 4-5 days max.
3. Going for too long
Awesome, so you've committed to running! Let's get out there and run for an hour, no matter how it feels.
Wrong.
That's the worst thing you can do! Remember that burn out that I mentioned above? Yep, this is a recipe for it too! Depending on your fitness level, you'll want to start with a slow build up – especially as you're adjusting to adding this into your schedule.
For instance, on day 1, go out for 10 minutes and do a mix of running and walking. On day 2, go for 12 minutes and increase the running a bit. Day 3? Try 5 minutes of straight running. Each week, build up how many minutes you run and decrease how much walking you do until you can run the entire time for at least 30 minutes. *Kara's note: I have to second this one! Once you get that runner's high, it's hard to stop! Sometimes I feel so great and want to keep going…but I know I need to stay true to the plan because if I don't, I'm putting my body at risk for injury and am potentially prolonging the amount of time it will take to recover. As Lora said, be careful and avoid overdoing it. You need a solid base first, whether you're brand new to running or starting again after taking time off! 
4. Expecting immediate results
I get it, you started working out and now you want to see what it's doing for your body! It can be so discouraging to hit the treadmill or trails week after week, only to have your times stay the same, the effort feel just as hard, or your pants fit like they always did. But it's crazy – suddenly, it'll all start coming together (generally 4-6 weeks into your workout plan). Don't get discouraged if you don't see immediate results – keep plugging away and know that internally, you're making your body so much healthier.
5. Being embarrassed to talk about it
The one thing I love most about the running community is how everyone is so supportive! If you start running, don't be embarrassed to talk about it – shout it from the rooftops! I think having a solid support system is so important to stay motivated and moving. It helps keep you accountable while giving you a little extra push to get it done.
6. Not cutting yourself any slack
I swear that sometimes we're harder on ourselves than anyone else, and it's no different when it comes to starting a running program. You might miss a day here or there. Who knows, work might get crazy busy or you might come down with the flu. Or you could even just have a day where it just doesn't feel right.
And that's OKAY!
Whatever it may be, cut yourself some slack. Life happens. Things change. Just know that tomorrow is a new day and you can always pick up again. Don't beat yourself up over this or count yourself as a failure – because you aren't.
7. Forgetting to celebrate your accomplishments
Remember to be proud of yourself. Remember to give yourself a pat on the back. In today's world, picking up a workout routine is hard. Life is crazy busy, things get in the way and distractions are everywhere. Celebrate how far you've come – even if it's as small as hitting your workout goals for the week! Make sure you give yourself a high five or a pat on the back as much as you can. It's so helpful and motivating!
Any other tips to share with new runners? What are your New Year's resolutions?