When we were living in Los Angeles I couldn't snap out of my "I <3 NY" phase. Blah blah blah, I love New York, California just isn't as great because (insert random observation here). I was all holier-than-thou about how great the east coast is. (Which it is, of course.) But I didn't appreciate how great California was until I left.
The curse of being me, wahhh.
I'm a very nostalgic person, much to my detriment. Here we are back in New Jersey which is completely different from Southern California and although I lived here for years prior to moving, I'm having trouble adjusting to all the changes in my life lately. I feel like I need to reminisce and also share some of the things I learned to love about CA!
SO, for anyone debating a cross-country move like Brendan and I were 3 years ago (or just thinking about moving to Los Angeles) here are some things I learned. (Side note: We lived in Marina del Rey and El Segundo, which are beach cities in the southern part of LA. Most of my recommendations are for places and activities in this area…I'm not as familiar with downtown LA, Hollywood, the valley, etc.)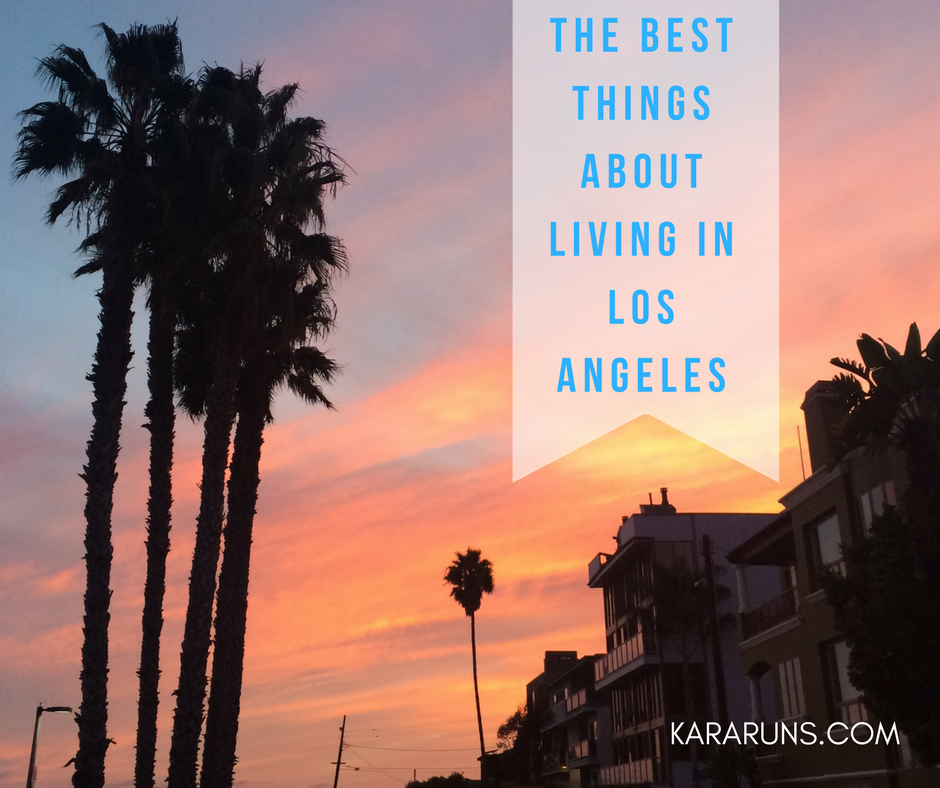 Running routes: Duh. Had to start with this one. I was never at a loss for a good place to run. You have the trails like Griffith Park and Runyon Canyon (the most popular options) north. The South Bay has an incredible path called The Strand that goes for miles along the beach. Plus, you have tons of other trails both in LA and Orange Country if you're into that.
My favorites: 
Aliso Canyon in Laguna Niguel (Orange County)
Griffith Park (the side I mentioned in this post, not so much the Hollywood sign side)
Workout options: Along with the great running routes, there are SO MANY STUDIOS and other outdoor workout options. (I'm so mad I didn't try paddleboard yoga at least once!)
My absolute favorite LA studios:
JFM Boxing (Marina del Rey) – Legit boxing classes; you learn a lot and still get a workout in. Plus you feel like a badass.
Real Fitness (Playa del Rey) – ALWAYS and amazing workout with smart, friendly trainers who know what they're doing. Lots of variety in exercises.
The Green Yogi (Manhattan Beach) – Incredible, educated instructors and a positive, welcoming community. Amazing vibe with a peaceful outdoor garden. I also worked here so I'm biased butttt still.
Poise Fitness (Hermosa) – Extremely welcoming, motivating and knowledgable instructors and staff, with varied workouts that include treadmill work and strength.
The LIT Method (West Hollywood) – Great workout when you need high intensity with low impact. Perfect cross training.
More LA fitness studio reviews here!
Great hikes/trails:
Mishe Mokwa Trail/Sandstone Peak
Runyon Canyon (cliche LA hike but I still like it)
Baldwin Hills Scenic Overlook Stairs (not really a hike, but it's a TON of stairs with short trails and gorgeous views at the top)
Palos Verdes (more of a place for a good walk but with the best views EVER. Bring a picnic!)
A post shared by Kara (@kararuns729) on
Outdoor meals: So many outdoor patios! One of my favorite places is Whiskey Red's in Marina del Rey. Perfect happy hour spot right on the water, and it's tucked away in the marina so there's rarely a wait. In general, LA has plenty of options so if you want to enjoy the weather, you can can always sit outside and gobble up some delicious food (the seafood is amazing of course!) and take in beach views.
El Segundo + the South Bay: I have to thank our BFFs Kate and Tyler for introducing us to El Segundo. We lived in the neighboring Marina del Rey for 2 years which was also great, but then we found El Segundo when Kate and Tyler moved there and it was heaven. It's a quiet, hidden little community on the beach, right next to Manhattan Beach. It has tree-lined streets that make you feel like you DO get a taste of fall, the temperatures are much cooler because it's by the ocean, and we could walk into the town to get a meal, go to the farmers market, run quick errands, etc. I loved walking to the market down the street for items I forgot to buy for dinner, or to the library when I craved a good book. AND there was a lemon tree on the corner of our street. I mean, really. The best. We had the cutest, tiniest little house with an outdoor patio that had twinkling lights and a mini fountain and it's my favorite place I've ever lived.
Travel opportunities: You have all of California and the pacific northwest a short plane ride away (or take a road trip up the California coast!) I wish we had taken this opportunity more seriously and actually traveled. We did get a road trip in, and did a lot of exploring throughout LA and Orange County, but didn't do much traveling to the surrounding states. I still want to visit Oregon and Seattle!
Healthy food options (Acai bowls!): My favorite thing was going to Kreation Juicery after a workout on a Saturday morning and getting a huge, delicious acai bowl. There is exactly one acai bowl place I've found in New Jersey and it's just not as good. (Send recommendations if you know of a good place!) As cliche as it sounds, I miss the huge focus on healthy living and all the quality, good-for-you food options in LA. (Kombucha on tap at Whole Foods?! Is that a thing here or have I just been pregnant and subliminally ignoring it?)
Quality of life: For all the reasons listed above. I felt so healthy and happy there in the warm sunshine.
So, now that I'm all savvy and smart (lies), I'll share the answers to the questions I asked before moving to Los Angeles:
Do people wear rain boots in California? 

I tried to wear rain boots twice when it rained just because I missed my rain boots, but it never rains all day so at some point you're just clunking around in rain boots in the sun and people make "you're not from around here" jokes to you. 

Will I need a coat, like, ever? 

Definitely not. I think the lowest temp I saw in LA was low 40s in early mornings but by 9AM its 70 degrees. And no one wants to carry a coat around all day.

There is currently no NFL team in LA. This is sad. 

AND NOW THERE ARE TWO. I'm like a magician. 

I'm going to have to watch NFL games at 10 AM. Monday Night Football will be at 5 PM. I don't know if this is bad or good. I thought I'd hate it, but it wasn't bad. Especially when I felt like lounging around in bed all morning. The only issues were that you couldn't get as much stuff done Sunday mornings since you didn't have the entire morning, and it definitely felt like we were wasting the day away watching football with the gorgeous weather outside. Sunday 10AM games were also tough when we didn't get the games we wanted to watch (AKA the Jets always) so the only option was a bar at 10AM or getting computer viruses while looking for sketchy YouTube live streams. I loved that night games never kept me up too late and even with overtime I could still go to bed at a reasonable hour.
Will I forever be calling my east coast friends at midnight EST on accident? Sorry in advance. 

I "calculated" the 3 hour time difference at least 17 times per day, every time I went to call or text someone in NY. I THINK I did a good job at not texting at inappropriate times but I can't confirm that. Sorry if I disturbed your sleep. (Although I got plenty of 3AM texts from early risers on the other coast!)

Do I have to start walking slowly again? 

Ugh, yes. Thankfully the fast walking gene returns when you get tossed back into NYC.

I'm going to miss the straightforwardness of East Coasters. 

Girllll I missed this so much. 

I'm going to have to up my sunscreen budget. 

Yes. But I do miss having a "tan" ("tan" in pale person terms) year round.

Should I buy a surfboard? 

I surfed zero times and I hate myself for that. 

I hope I get really good at triathlons. 

I DID ZERO TRIATHLONS. I think the first thing I did when we found out we were moving was look up tri clubs. I was so excited about being able to train in California and do a millions tris. WHOOPS.

I can train for spring marathons and not have to worry about freezing temperatures. The running weather there is absolutely incredible, especially by the water. Butttt I ran zero marathons. (There were lots of other good races though!)
Can I hire someone to teach me how to pronounce the names of all these crazy towns and roads? 

Let me just say that Siri sure as hell doesn't know how to pronounce them correctly (ROSE-CRANS not Ross-E-Crins, lady).
HELLO, LONG BLOG POST. If you're still reading, you da best.
Your turn! What's your favorite US city to visit?